Changelog
⚠️
WARNING:
Potential spoilers below.
Version 0.2.7 – 5 June, 2021
Welcome to the Inventory Management Update
This patch allows you to:
Mark items as junk
Sell all items marked as junk
Sort your inventory
Customise your Weapon Selector (added Radial and Grid layouts)
Customise keyboard weapon shortcuts
JUNK BE GONE
When browsing your inventory, you can now mark items as junk:
Keyboard shortcut: M
Controller:

X Button
When interacting with the merchant, you can now sell all items marked as junk:
Keyboard shortcut: R
Controller:

Y Button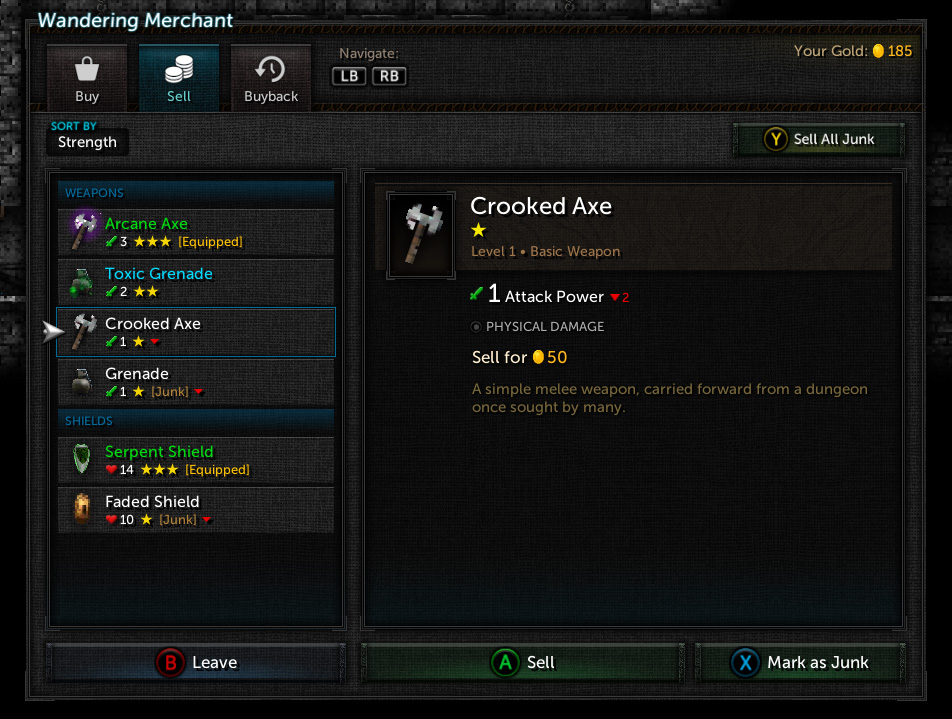 When refreshing a category, items marked as junk will appear after non-junk items.
SORT YOUR STUFF
Filters have been added to the following tabs:
Inventory > Weapons, Shields, Potions
Merchant > Buy, Sell, Buyback
Filters allow you to sort your items by:
Attack Power / Health / Strength
Item Type / Weapon Type
Element
Gold Value
Modifier Count
Quantity
When refreshing a category, items marked as junk will appear after non-junk items.
WEAPON SELECTOR LAYOUTS
A new Loadout tab has been added to your Inventory, letting you adjust the layout of your Weapon Selector.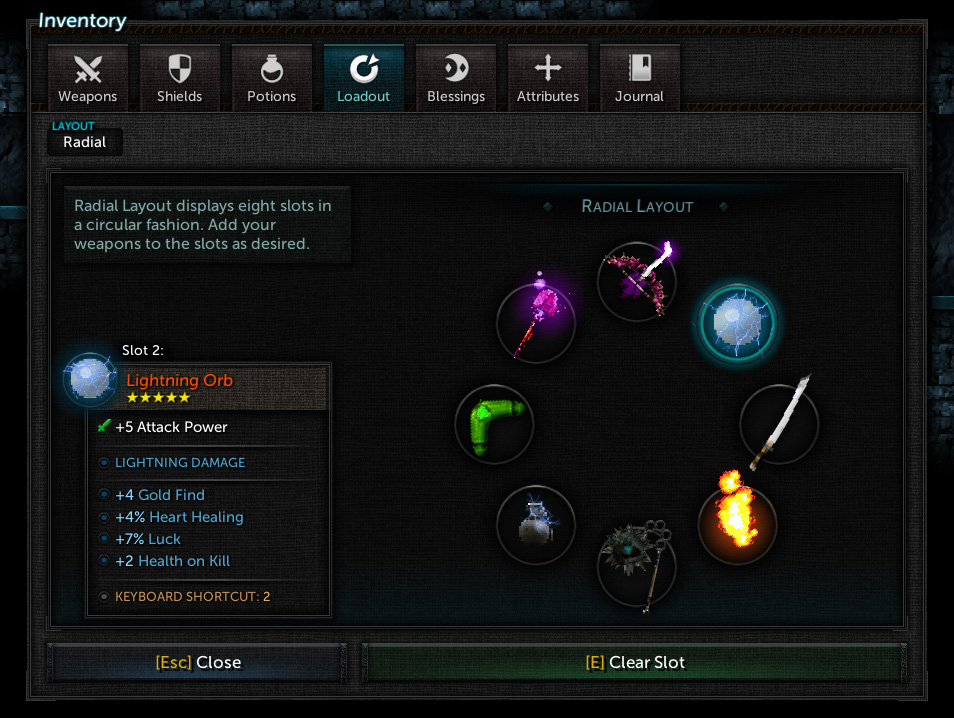 Three layouts are now available to manage slots for your weapons:
1. Dynamic (default)
Automatically creates and populates slots (up to 24 weapons).
Contains a filter to choose how weapons should be sorted.
Weapons marked as junk are omitted.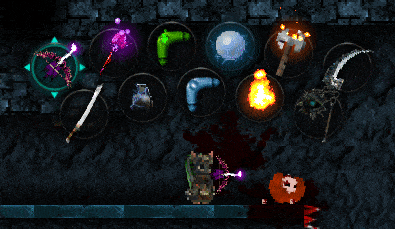 2. Radial
Contains 8 slots, much like a weapon wheel.
Weapons can be added to slots automatically, or chosen manually.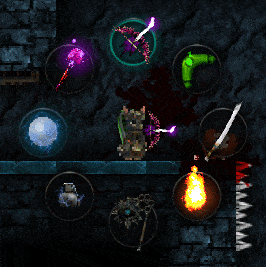 3. Grid
Customisable rectangle. Supports 1-3 rows and 3-8 columns.
Weapons can be added to slots automatically, or chosen manually.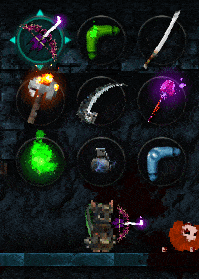 For the Radial and Grid layouts, a related option has been added:
Options > Advanced > Auto-add Weapons
If enabled (default), weapons will be added to your Weapon Selector's Radial and Grid slots automatically.
If disabled, weapons will need to be added manually from your Inventory Loadout tab.
To access your Weapon Selector when in a dungeon, default bindings are:
Keyboard: Left Shift
Controller:

B Button
KEYBOARD WEAPON SHORTCUTS
You can now customise weapon shortcuts with number keys (1–9).
Shortcuts can be managed automatically based on your Weapon Selector loadout, or you can manually assign shortcuts.
When browsing your inventory, any weapons linked to a keyboard shortcut will have its number appear.
Added option:
Options > Input > Weapon Shortcuts
1. Automatic (default)
Lets you press number keys 1–9 to select weapons based on your Weapon Selector loadout slots.
Automatic does not allow for manual assigning.
2. Manual
Lets you assign weapons to number keys 1–9 as desired, regardless of slot order.
To assign a shortcut:
Equip a weapon.
Hold Alt or Ctrl, then press a number.
A notification will confirm the shortcut has been assigned.
Note that this only works if no menus are showing.
To load a shortcut:
Press the assigned number key by itself.
Note that this only works if no menus are showing.
3. Off
Prevents number keys from accessing weapons.
OTHER FIXES & IMPROVEMENTS
Controllers
Added a debugger to assist with detecting controller IDs and buttons. Available under Options > Advanced > Controller Debugger.
Improved logging.
Leaderboards
Fixed incorrect "time elapsed" header text.
Loading
Fixed issue where player creatures would always be positioned on the room's entry point.
Menus
Improved rendering performance.
Fixed radio-button items not being selected upon first load.
Fixed potential issues with option categories not populating their items.
Merchant
Speech bubbles now only show once per room load. Leaving the home room resets this check.
Quick Restart
Fixed issue where player creature positions would not be stored correctly during savefile creation.
Weapon Selector
You can now click slots with your mouse.
Fixed index errors with slot navigation.
Version 0.2.6a – 26 March, 2021
SIMPLIFIED CHINESE
Version 0.2.6 – 24 March, 2021
NEW OPTION
Hold to Attack:
Allows weapons to be used repeatedly by holding down the Attack action.
Available under Options > Advanced.


ONLINE CO-OP
Fixed an issue where client room numbers could become out of sync. Room transitions are now more robust.
Added messages if the server is waiting for players to load before allowing a room transition to occur.
Improved reconnection messages if a game does not appearing to be running. Now provides suggestions to load the game, or to refresh the list of games.
Fixed an error when attempting to load a saved game from a server.
Fixed a server error if a client disconnected when a game was being restarted.
Addressed issues with clients receiving incorrect potion messages.
COUCH CO-OP
Reduced intensity of stun particles on player HUDs.
Fixed an issue where particle density options would not be applied to player HUD particles.
Fixed an issue where poison particles were not appearing on player HUDs.
Fixed an issue where poison particles would persistently appear after changing screen resolution or UI scale.
GAME CONTROLLERS
Windows & macOS: Added support for PlayStation 5 controllers with InControl Native.
macOS: Fixed issues with Nintendo Switch Pro Controllers.
Fixed a controller-related error when quitting the game.
ERROR MESSAGES
Critical error messages are now hidden by default.
Added option to display error messages. Available under Options > Advanced.
OTHER FIXES & IMPROVEMENTS
Simplified Chinese: Updated many strings regarding health, potions, and room modifiers.
InControl: Updated to 1.8.4.
Menus: Fixed top-right Refresh and Delete buttons not working with game controllers.
Fixed an error when sending session statistics.
Addressed a rare internal error when creating dungeon entities.
Version 0.2.5 – 16 March, 2021
SAVED GAMES
Improved writing saved games:
Write times for large dungeons now takes ~1 second, rather than several seconds.
Reduced file size for large dungeons by ~50%.
Greatly reduced RAM usage when saving.
For file size and memory performance, old rooms are now "vacuumed" when the game is saved:
After reaching Room 12 or higher, rooms from ten rooms prior now become closed off.
Old rooms, excluding the home room, have most of their data stripped.
The western door from ten rooms prior becomes closed and permanently locked, since the preceding room is no longer usable.
The home room is left intact, though its eastern door becomes permanently locked once Room 1 is vacuumed.
ONLINE CO-OP
itch.io:
Enabled online co-op for itch.io versions.
Online games are cross-compatible with both Steam and itch.io clients.
A special itch.io login key is required to play online.
For details on how to obtain your login key, please visit: tallowmere2.com/itch
Loading saved games:
Fixed an issue of not being able to rejoin a loaded game. Account-matching is now improved between server and client, rather than relying on info stored in client's LocalSettings.ini file.
Fixed an issue where loading a saved game would not have its internal ID be reassigned on the server.
Poison:
Fixed issue where poison ticks would not hurt enemies. Poison ticks now hurt enemies as expected.
Other fixes:
Fixed a timing issue where kitten-rescuing cutscenes could start if kitten had been slain.
Fixed an item network error during room transitions.
Fixed connection issues with long player names.
Addressed errors that could happen when returning to the home room at the end of a run.
Addressed errors that could happen if players disconnected during the home room cutscene.
Improved server debug logging.
Improved server directory integrity checks.
OTHER FIXES & IMPROVEMENTS
Input prompts:
Improved text contrast and visibility.
Added clipboard paste support – Ctrl+V on Windows and Linux; Cmd+V on macOS.
Simplified Chinese:
Fixed incorrect string for

Modifier_ExtraCritDamage

.
Spanish:
Rarity 4: Renamed Legendario to Épico.
Renamed Catbeast to Bestia Felina.
Renamed Bumerang to Bumeran.
Other fixes:
Fixed an error with low-health text during game over sequence.
Fixed an error when trying to click debug log file shortcut.
Version 0.2.4 – 1 March, 2021
LANGUAGES
Added Spanish / Español – translated by Martín Martos.
ONLINE CO-OP
Online game-saving has been added: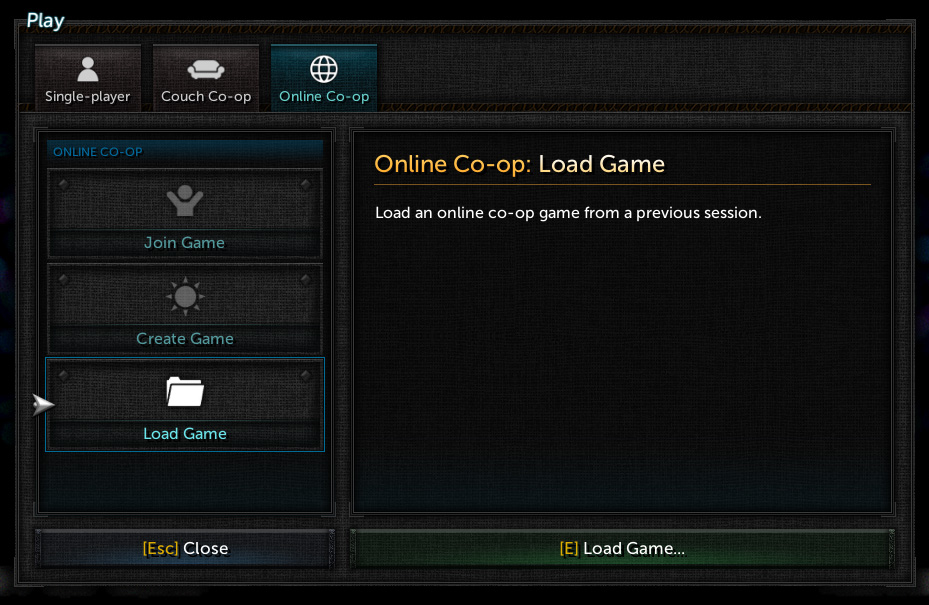 Parties can now exit an online game and resume it later.
Online games are saved on the selected server when a party enters Room 1.
Games are saved to the server's disk when the party reaches a new room.
Games are linked to players' Steam accounts.
Games are retained for 90 days.
Games are deleted from the server's disk when the party dies.
To resume an online game from a previous session:
One player should load the game by going "Online Co-op", "Load game", select the server that was previously used, then select the game.
Once loaded, the game will appear in the "Join game" category for the other player(s).
MENUS
Play:
Tabs are now separated into Single-player, Couch Co-op, and Online Co-op.
Servers:
Servers are now listed in a category instead of a context menu.
Servers are now sorted by ping.
The best-ping server is now selected by default.
GAME ENGINE
As part of an ongoing investigation into rare Unity engine errors:
Unity's "Use incremental garbage collection" option has been disabled for now.
Many checks around Unity's MonoBehaviour classes have been added.
Prior to 0.2.4, incremental garbage collection was enabled. It keeps performance smooth, but I suspect it was accidentally removing non-garbage pointers in memory, causing errors regarding lists, arrays, and null references. This patch will help see if incremental garbage collection was the underlying issue.
Frame rate performance should still be adequate, but if not, please submit in-game feedback, post on the forums, or email me.
OTHER
Couch Co-op:
Fixed error during game-over screen if a controller had disconnected.
File System:
Improved handling of disk errors when writing

LocalSettings.ini

.
Korean:
Fixed a pause menu issue.
Menus:
Fixed certain buttons not updating when player changed input type between keyboard and controller.
Fixed date and time formatting issues.
Online Co-op:
Improved messages regarding timeout issues.
Fixed player name text-wrapping issues on treasure chest items.
Fixed errors with rewards and shields.
Options:
Added option: Advanced> Delete Local Settings.
Quick Restart:
Fixed player spawn point position being incorrect.
Steam Leaderboards:
Fixed issue where only one entry would be submitted per session. Multiple entries are now submitted per session, rather than being stuck in a queue.
Fixed a rare error after an entry finished submitting.
Other:
Addressed rare errors with the weapon selector and item pop-ups.
Version 0.2.3 – 22 January, 2021
This patch adds a couple language-related features, but is mainly focused on bug fixes.

There are still many features to be added. The list is large. Thank you for all the bug reports and requests. Working through things one at a time. Lots to do still.
KOREAN
Added Korean – translated by THE BALANCE.


Deployed an online co-op server in South Korea.
IME SUPPORT
Windows:
Added IME (Input Method Editor) support. You should now be able to type in Simplified Chinese, Korean, and Japanese.


If Windows' IME is enabled, a globe icon will appear beside the input field in-game.
This works for online chatting, editing text in the menus, and using the in-game feedback form.
macOS

& Linux:
Unfortunately, the current Unity engine has issues with IME support on macOS and Linux. I have submitted a bug report to Unity; let's hope IME support is improved in a future Unity version.
KEYS
Entering a corridor or waypoint now causes players to drop any key they are holding. This should resolve issues of not knowing where keys are taken.


Keys are no longer affected by Magnetism for 0.6 seconds after being thrown. This allows keys to move away from the player.
TILTED
Corridors affected by the Tilted room modifier now have extra force to ensure keys and treasure are obtainable.


ONLINE CO-OP
Servers no longer process regular damage messages if a cutscene is playing.
Fixed rooms failing to load if one client happened to disconnect mid-load. Clients now reveal the room ~4 seconds later regardless if other clients are ready.
Fixed issue where player positions could be set incorrectly upon room load.
Fixed issue where a client could not perform certain actions after reconnecting.
Fixed error where kittens could receive fatal damage at the same time a cutscene could start.
Fixed various errors regarding doors, holding and throwing keys, treasure chest interactions, pedestal interactions, and damage constructors.
Improved handling of Demon Statue messages.
Improved server debug logging.
MENUS
Fixed long right-panel titles overlapping text underneath. Text content is now wrapped and pushed appropriately.
Navigating menu items with keyboard keys no longer scrolls right-panel content.
Improved handling if maximum saved game limit is reached.
LANGUAGES
OTHER FIXES
Scythe & Temperament: Projectile spawn point has been corrected.
Addressed issue with low-health warnings causing errors in rare cases.
Fixed core attributes sometimes failing to recalculate, and improved the recalculation process.
Fixed co-op revival triggers sometimes being activatable in single-player games.
Fixed buff and debuff labels not updating when changing language.
Fixed waypoint sounds emitting multiple times in the same frame in co-op.
Fixed issue where command-line launch arguments would be written to

LocalSettings.ini

.
Fixed error with creatures being slayed at the same time the game is paused.
Fixed error with weapon modifier UIs sometimes failing to update.
Fixed audio not fading out when exiting the game.
Fixed various errors regarding projectile collisions, weapon visibility, shield positioning, creature states, elemental spinner traps, game states, ranged weapons, and alterant calculations.
Improved null-reference checking against MonoBehaviours in many places.
ENGINE
Updated Unity to 2019.4.12f1.
Version 0.2.2a – 1 January, 2021
Happy new year! This patch addresses several issues to keep the dungeons running smoothly.
ACHIEVEMENTS
Grenades
Progress for unlocking Toxic Grenades and Lightning Grenades should be working now.
MENUS
Finnish
Fixed gold icon position issue on Merchant menus.
French
Fixed capitalisation issues on menu titles.
OTHER FIXES
Cutscenes
Fixed error if a kitten died while player tried to interact with the kitten in the same frame.
Explosions
Fixed bug where explosions were always treated as Fire damage.
Menus
Fixed error when viewing the "Options > Input" tab after finishing a Couch Co-op game.
Online Co-op
Fixed the Host tab sometimes being blank after joining a game, causing errors.
Physics
Re-enabled Unity's "Physics 2D > Use Multithreading" option – recent bug reports show disabling this did not improve anything.
Single-player
Fixed waypoints in Tilted rooms sometimes not working.
Translations
Other
Fixed various errors with Boomerangs, Magic Mirror, creature deaths, info overlays, item comparisons, and projectile spawning.

Roguelike dungeon platformer
Work-in-progress
Download & Play

Steam

Out Now

itch.io

Out Now
Player modes:

Single-player

Couch Co-op

Online Co-op

Upcoming platforms:

Mobile:

Q3 2021

Console:

Q4 2021
Stats
711
Unique players past month
Meta
Server Status 🖥️

Nobody online right now

Changelog ⭐

v0.2.7 – 5 June, 2021

Issue Tracker
Privacy Policy
Android
Contact & Support
News
Game Info
Socialise