20 July, 2020
Lady Tallowmere has released a demo of her dungeons for you to try, and is also offering Early Backer rewards.
Demo the dungeons

A free Tallowmere 2 demo is available on Steam and itch.io.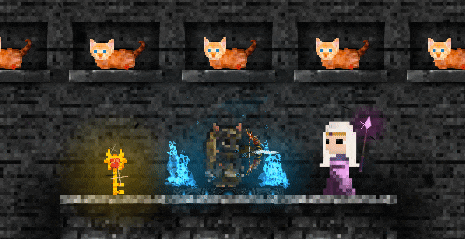 Player modes in the demo:
Single-player
Couch Co-op (up to 4 players sharing the same screen)
Demo notes:
Online Co-op is not available in the demo due to temporary difficulties with the dungeon's network access; Mr Bigguns chewed through an important cable.
There's a pool party happening in Room 15.
The final few rooms in the demo have their monster density and room modifier count ramped up higher than usual.
Starting weapons, special characters, and achievements are not available to be unlocked in the demo – but you can still find all sorts of weapons just by playing.
Become an Early Backer
Teaming up with her faithful Wandering Merchant underling, Lady Tallowmere aims to maximise her capitalistic endeavours by offering pre-order incentives:
Base Rewards
Become an Early Backer and gain exciting rewards such as:
😻 Name a Kitten – will appear in the dungeon from time to time.
🔑 Steam Key – receive a Steam key once Early Access begins.
😃 Name in Credits – be credited as an Early Backer.
Extra Rewards
For the devout zealots out there, higher tier rewards are also available:
💂‍♂️ Customise a Guard – flesh out a Guard NPC's name and dialogue.
📜 Design an Event Room – work with the developer to create an Event Room.
💀 Design a Boss – work with the developer to create a Boss.
Questions & Comments
If there's anything that needs clarification, please contact me.
Thanks for your support ❤